Purpose of the entrance test (Aufnahmetest)
The entrance test checks the German language skills before admission to a DSH preparatory course. It serves in addition to the classification in the suitable courses.
Only with a valid "Vormerkung" and a place confirmation after successful registration, you can participate in the entrance test.
Scope and content of the entrance test
This entrance test is obligatory for anyone who wants to be included in a DSH preparatory course of the Studienkolleg. It is carried out electronically using the onSET system (see below). Duration (working hours only): about 40 minutes.
Format of the entrance test: OnSet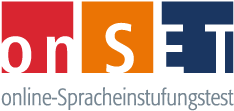 The entrance test takes place with the help of onSET.
You do not need computer skills. You only need to know how to use the keyboard and mouse. Everything else is automatic.
The onSET contains eight excercises. Each exercise consists of a cloze text with exactly 20 gaps. There is a maximum of five minutes left for every cloze text. Overall, the test takes a maximum of 40 minutes.
Further information can be found on the website https://www.onset.de/.
You can prepare yourself for onSET with a sample test. The test is shorter and a bit lighter than the onSET. But it shows you what to do with onSET.